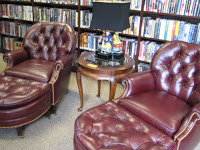 Services Available
Books – Fiction, non-fiction large-print and reference
Interloan books – Books not found in our collection may be borrowed from other libraries in the Chautauqua-Cattaraugus Library System at no charge.
Audiobooks on Compact Disk
Adults and Children's  DVDs
Magazines and Newspapers – Current issues for in library use only.  Back-issues nay be borrowed.
Computers – Twelve Computers are available for patron use.  All users must sign-in at the circulation desk.
Meeting rooms – Reservations must be made to use these rooms.
Tours – Interested groups may contact the library to make an appointment.
Copies and faxes – Copier and fax machine use is available at a per page fee.
Summer Reading Program for Children – A program for children of all ages, readers and non-readers, featuring the current NYLA recommended theme.
updated: 7/28/17