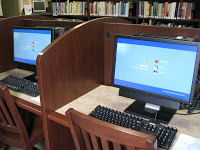 Policies
Computer Use:  Twelve computers are available for patron use for 45 minutes , once per day.
Printing charge:  15 cents per greyscale copy, 25 cents per color copy
Copier:  There is a copier available for patron use.  The cost is 15 cents per copy.
FAX: A fax can be sent at a cost of 50 cents per page.
Genealogy:  We ask a $20 donation, in advance, for local history research.
updated: 7/28/17